Sustainability is gaining more importance each passing day as the adverse impact of population growth and rise in consumption on environment is increasing gradually, plus the ecological balance disrupted due to global climate change is becoming a threat to future generations.

We implemented the Carbon Footprint Management Project with an awareness for the necessity of carbon management within the scope of the fight against climate change. Therefore, we became carbon neutral by evaluating our carbon footprint arising from our activities in 2016 and 2017 and paying for the corresponding amount of carbon credit and providing financial support to renewable energy projects. We will continue our endeavors in future as well to zero our carbon footprint.

Scope-1 - Direct Emissions:
AHE Scope-1 calculation includes greenhouse gas emissions from natural gas consumption, company vehicles, generators, chillers, ventilation and fire extinguishing systems.
Scope-2 - Energy Indirect Emissions:
AHE Scope-2 calculation includes greenhouse gas emissions from electricity use..
Scope-3 - Other Emissions
AHE Scope-3 calculation includes greenhouse gas emissions arising from personnel transportation services, taxi travels, bus travels, aircraft flights and paper consumption.
*Due to the relocation of some offices at the end of 2018, the total office area occupied by Anadolu Hayat Emeklilik employees was increased in 2019. Our GHG emissions intensity per usage area remained the same compared to the previous year.
**Due to the electricity used in 2021 is supplied entirely from renewable energy sources, Anadolu Hayat Emeklilik prevented a significant emission by reducing its Scope-2 emissions.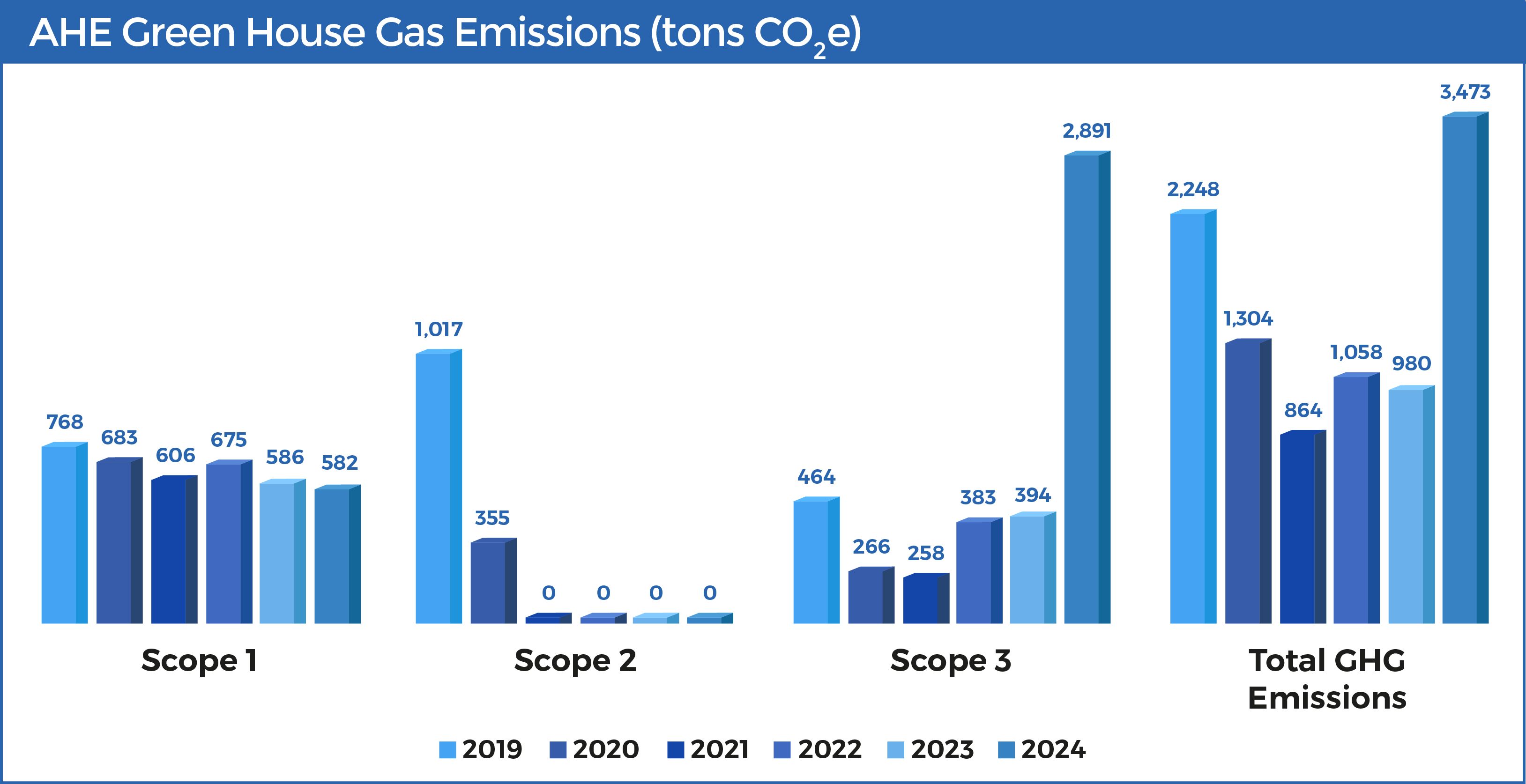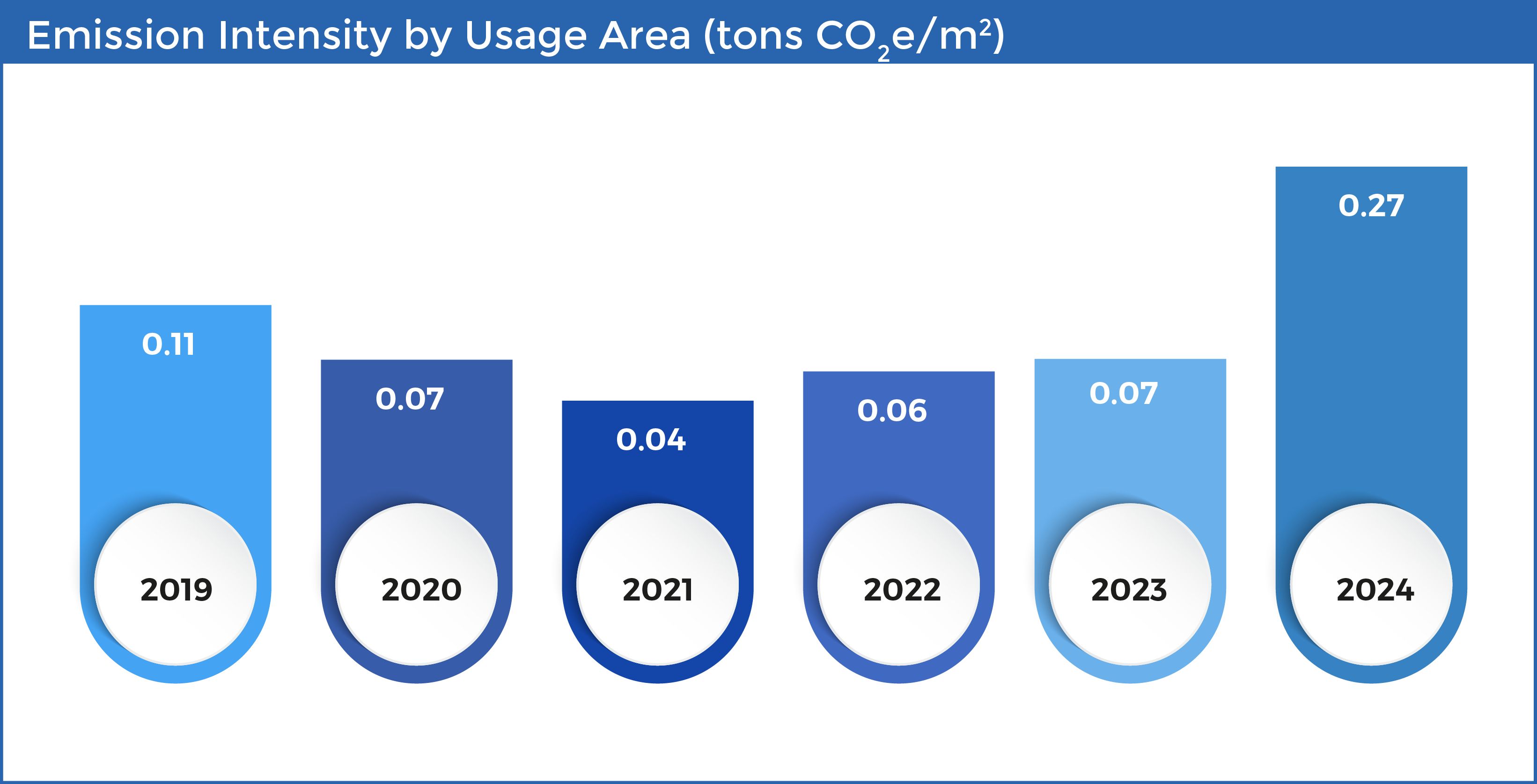 Management of Environmental Impacts
We routinely monitor and report the impacts arising from our offices and business activities as part of our principles of measuring and improving our environmental impacts, which are amongst the basic principles of our sustainability policy. Our environmental impacts as Anadolu Hayat Emeklilik come from the consumption of potable water, electricity and natural gas in our offices and the fuels consumed through our company cars, employee commuting and business travel. In addition, we monitor and report the amount of paper we consume and the waste we generate annually as well. Our performance regarding energy consumption, water consumption, paper consumption and waste generation can be reviewed in the tables below:

*2016 figure does not include diesel consumption from company cars.
Paper consumption, water consumption and waste generation

As a result of our activities towards managing our environmental impacts, our Manzara Adalar Offices were certified to LEED (Leadership in Energy and Environmental Design) Gold status given by the US Green Building Council (USGBC). In addition to our environmental management efforts, we utilize recycled paper and materials in our promotional materials such as calendars and our annual reports to further reduce our indirect impacts.
The electricity supply at our Head Office, Customer Service Center and domestic regional offices is from renewable energy sources.
Our Company monitors the relevant legislation daily and this monitoring includes environmental legislation as well. There were no incidents of environmental incompliance or environmental fines faced by Anadolu Hayat Emeklilik in 2021.